Home
>>
Mp4 Player
>> 3.0 inch TFT 4GB MP5 Player with Mp3 Mp4 Function
3.0 inch TFT 4GB MP5 Player with Mp3 Mp4 Function
3.0 inch TFT 4GB MP5 Player with Mp3 Mp4 Function-We are professional enterprise manufacturer & supplier of a complete range of 3.0 inch TFT 4GB MP5 Player with Mp3 Mp4 Function. Our top quality 3.0 inch TFT 4GB MP5 Player with Mp3 Mp4 Function are based on years of research and development and under the guideline of ISO9001-2000 quality system and CE and UL certified.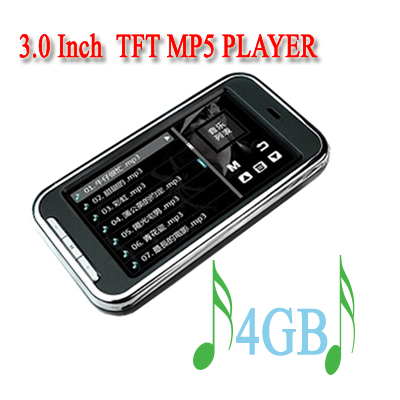 3.0 inch TFT 4GB MP5 Player with Mp3 Mp4 Function Retail & Wholesale here

100% satisfaction guaranteed!
Item Number: MY-4GBMP5

---

Product Type :
3.0-inch TFT 4GB MP5 Player


---

Sample Price : USD $63.94

Retail | Wholesale

---

Condition:
Brand New & High Quality

---

Location&Warranty&Shipping:
Full Manufacturer Warranty To Worldwide

---

---
3.0 inch TFT 4GB MP5 Player with Mp3 Mp4 Function Description :
The reason you buy this newest MP4 : 3" Wide 16:9 Touch Screen World's Most Powerful Video Player, directly download and play most popular video and music formats.
MP4/MP5
Video Formats: RM/ RMVB (720 x 576 maximum), AVI (800 x 480 maximum), WMV, DIVX, XVID, ASF, MP4, 3GP, MOV, MPG
Directly Plays Flash Video Formats:
(no conversion needed), SWF, FLV (Compatible with Youtube)
Built-in High Speed Flash Memory.
260,000 TFT True Color Display (LCD size: 3.0 inch).
Built-in T-Flash/Micros Card Slot
Built-in game.
Built-in high quality speaker.
MP3
Support MP3, WMA, ASF, WAV, ACT Music Formats.
Support ID3: The songs' titles and lyrics can be shown on screen. (Software Included).
7 Playing Modes: Normal, Repeat One, Folder, Repeat Folder, Repeat All, Random, Intro.
7 presets EQ for your music: Normal, Rock, Jazz, Classic, Soft, Pop, DBB.
Support 16 Languages:
English, Simple Chinese, Trad Chinese, Japanese, Korean, French, German, Italian, Dutch, Portuguese, Spanish, Swedish, Czech, Polish, Russian, and Turkish. Inter-changeable animated startup screens.
Icon display function: direct icon display, accompanied with icon/ text.
Fm Radio:
Built-In FM Radio: FM stereo radio.
Support stereo sound radios.
FM Frequency Range: 87-108MHz.
Powerful automatic channel search function.
Powerful FM recording function.
E-Book Function:
Support txt Format files.
Phone book support.
Voice Recording:
High Quality Voice Digital Recording, 3 Recording Mode: Fine REC, Long REC, Long VOX
Up to 64 hours of high quality WAV format voice recording and up to 288 hours of ACT format voice recording, Recorded Messages can be saved in 9 Folders & 99 Files. A-B repeater.
Built-in Microphone.
Built-in Speaker.
Picture Viewer:
Built-in Picture Viewer, support JPEG format pictures or JPEG photos downloaded from internet.
USB Storage:
Act as USB Flash Drive (Can store other data file), USB 2.0 high speed transferring, Plug & Play in Windows (no driver required) except Windows 98 or earlier.
Others:
Use rechargeable Li-ion Battery.
Output Frequency: 20 Hz to 20 KHz, MP3 Bit Rate: 8kbps-320kbps.
Fast Forward, Reverse, Skip and Back Track. Sleep mode, auto Power-Off, Power-Saving mode available.
Size:90 x50 x13mm
Weight:60.5gr
Audio Connector:, 3.5 mm headphone jack

3.0 inch TFT 4GB MP5 Player with Mp3 Mp4 Function included:
1 x 3.0 inch TFT 4GB MP5 Player
1 x English Manual
1 x USB cable
1 x Earphone
1 x Charger
1 x CD
We will send your item in Nice Package .

Tips On Digital MP4 Players for The Average Consumer
A digital multimedia MP4 player is able to store video files, photo files and audio music files. Additional features of MP4 devices are:

1. An FM tuner
2. Built-in Voice Recorder
3. Digital Camera
4. Integrated TV turner
5. e-book (TXT viewer)
6. Games emulator
7. Built-in wifi (on some models)
8. TV-Out Record (record TV programs)
MP4 Players now are more affordable than ever. An average MP4 player's price is about USD $100. If the player has additional built-in features, then the price can go up to a couple of hundred dollars. Support audio and video file formats can vary widely. Before purchasing your MP4 player, make sure you know the player supports the audio/video AV formats you want to use.

Media Center MP4 players, also known as PMC's, are usually the priciest MP4 players. These Portable Multimedia Center MP4 Players support the new breed of Media Center Personal Computers that are now available in the market.

MP4 players come in mainly 2 formats:
1. Hard Drive based MP4 players.
2. Flash Drive based MP4 players.

The hard drive based MP4 players offers greater storage capacity, and usually support for a larger variety of media formats. Flash drive based players have smaller storage capacities, but as an advantage give a smaller form factor and has no internal moving parts.

It is always best to compare and contrast audio and video features on a variety of MP4 multimedia players in order to narrow down the best one for your needs and purchase. Features that need to be taken into consideration when in the market for a new MP4 player are:
A. Screen Brightness
B. Screen Resolution and Size
C. Audio Quality (both with headphones and without one if player has external built-in speakers)
D. Additional Storage Capability (e.g. miniSD card slot, SD slot, Transflash card slot, etc)

An MP4 players memory storage capacity is very important because video files, unlike it's audio counterpart, take up more storage/memory space. A one hour movie can take up to 700MB(megabytes) of space. It is always paramount to consider additional storage capability on an MP4 player. Players with built-in SD slot or something similar are very much sought after because it allows room for more memory/storage expansion well into the future.