Equivalent Panasonic cf-vzsu42 Laptop Battery
Panasonic laptop batteries® Give your laptop new life with a higher capacity Panasonic cf-vzsu42 laptop batteries (6600mAh,7.40V,Li-ion) with Premium quality and 100% compatible with the original equipment.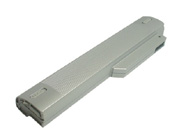 ---
Panasonic cf-vzsu42 Battery
100% Compatible With The Original Equipment!
Net Weight : 415g
Battery Chemistry : Li-ion
Battery Voltage : 7.40V
Battery Capacity : 6600mAh
Battery Cell Origin: Japan
Battery Color : Silver
Product Number : LNPS003
Dimensions : 200.04x50.80x26.77 mm
Please ensure the laptop battery that you are going to buy fits the brand, model and part number (Voltage) of your laptop.
USD $85.94 [25% OFF]


Bookmark

Panasonic cf-vzsu42 Laptop Battery


In Stock. Orders received before 2pm EST ship same day
Compatible Laptop Battery Code:
Panasonic CF-VZSU42, Panasonic CF-VZSU42U
Fits Panasonic Laptop Models:[ Ctrl+F ]
Panasonic CF-R4 Series, Panasonic CF-R4GC5AXS, Panasonic CF-R4GW5AXR, Panasonic CF-R4GW5AXS, Panasonic CF-R4GWCKZBR, Panasonic CF-R4GWCZZBR, Panasonic CF-R4HC4AXS, Panasonic CF-R4HW4AXR, Panasonic CF-R4HW4AXS, Panasonic CF-R4JC4AXS, Panasonic CF-R4JW4AXR,Panasonic CF-R4JW4AXS, Panasonic CF-R5 Series, Panasonic CF-R5KC4AXS, Panasonic CF-R5KW4AXP, Panasonic CF-R5KW4AXR, Panasonic CF-R5KW4AXS, Panasonic CF-R5KWPAXP, Panasonic CF-R5LW4AXR
Extend Your Panasonic cf-vzsu42 Laptop Battery Laptop Battery Life :
1) To maintain the optimum performance of the Panasonic cf-vzsu42 Laptop Battery, it is highly recommended to circle (fully discharging and recharging) it at least once a month. Note: It is normal if a new Panasonic cf-vzsu42 battery gets warm when being charged or used. New laptop batteries recharging may need extra patience if the gauge procedure encounters difficulties. For the first time recharging, a fully charged condition about 10 to 25 minutes when the new battery pack set in,but actually it's not yet charged fully . When this happens, remove the battery pack and let it cool down for about 15 minutes to reset the new battery to the battery bay.

2)Prepare laptop Batteries for Recycling.You can recycle your batteries at a local recycling center, but you also have the option of shipping them there as well. These measures are taken in order to keep everyone involved in the transportation and recycling of the batteries safe. Be sure to check out our Battery Disposal Guide for disposal information on each individual battery type. More....

3) Green with Your Panasonic cf-vzsu42 Laptop Battery (Souce : b2cpowershop ) -Use rechargeable Laptop batteries Instead of purchasing disposable alkaline batteries over and over again, consider purchasing a set of rechargeable NiMH batteries to save money and help reduce land fill waste. Rechargeable NiMH batteries are a great choice. Even though they cost more up front, they'll quickly pay for themselves the more you use them. In addition, a fully charged NiMH battery will last longer than an alkaline battery for one cycle. More....
<