Home
>>
helicopter
>> 33cm GYRO Metal 3 Channel 3ch RC Helicopter R102 +Parts
33cm GYRO Metal 3 Channel 3ch RC Helicopter R102 +Parts
We are professional enterprise manufacturer & supplier of a complete range of Remote Control RC helicopter. Our top quality Mini RC helicopter are based on years of research and development and under the guideline of ISO9001-2000 quality system and CE and UL certified.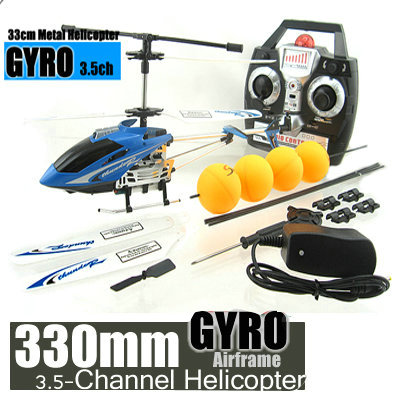 33cm GYRO Metal 3 Channel 3ch RC Helicopter R102 +Parts Retail & Wholesale here

100% satisfaction guaranteed!
Item Number: MYR102

---

Product Type :
3-Channel RC Mini Metal Helicopter™©


---

Sample Price : USD $34.95

Retail | Wholesale

---

Condition:
Brand New & High Quality

---

---
33cm GYRO Metal 3 Channel 3ch RC Helicopter R102 +Parts Description :

The New Version of R102, The inner gyro with function of dual rate and head lock, which designed for helicopters specially. R102 gyro version adopts AVCS ( Angular Vector Control System ), which makes the function of head lock more outstanding and steady. AVCS system: Since rudder trim changes caused by wind and other meterological changes, and varieties of helicopter attiude changes are automatically cancelled, tail rudder operation becomes easy, making it perfect for 3D flight.\
-Intelligent R/C System
-Full Scale Remote Control
-360' Precise Directional Movement
-Smooth Hovering Performance
-Long Battery Life
-Energy Saving Power Cut-off

Features
POWERED BY 2 SOLID MOTORS WITH A 3RD MOTOR IN THE TAIL ROTOR
READY TO FLY , Easy Control , Easy To Fly
3.5 Channel ( forward / backward / up / down / left / right)
Completely stable in flight.
Proportional control system.
Excellent flight either indoors or outdoors.

Specifications
Length : 330mm
Height: 150mm
Main rotor length: 260 mm
Battery: 450mAh Li-polymer 3.7V
Flight Time: 12-14 minutes
Control distance: 20-25m
Battery for controller: 6 "AA" batteries
Frequency: Infra red control system ( Allow you to choose your own preferred Frequencies )
Control Specification: forward / backward / up / down / left / right
Colour: Blue/Yellow/Red


33cm GYRO Metal 3 Channel 3ch RC Helicopter R102 +Parts Package Content:

100% Brand New
1 x R102 3.5-Channel Helicopter --GYRO-- VERSION
1 x Remote Control
1 x AC Charger ( 100-240v )
1 x Screwdriver
1 x A Main Blade ( FREE )
1 x B Main Blade ( FREE )
1 x Tail Blade ( FREE )
1 x Training Kit Set ( FREE )