SV 3200 USB2.0 TV Tuner
We are professional enterprise manufacturer & supplier of a complete range of SV 3200 USB2.0 TV Tuner.Our top quality SV 3200 USB are based on years of research and development and under the guideline of ISO9001-2000 quality system and CE and UL certified.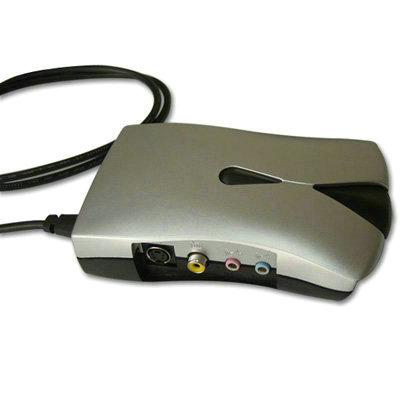 SV 3200 USB DVB-T Capture

100% satisfaction guaranteed!
Item Number:MYSV22

---

Product Type :USB TV Tuner


---

Sample Price : USD $28.59

Retail | Wholesale

---

Condition:
Brand New & High Quality

---

---

---
SV 3200 USB DVB-T Capture Features:
Watch analog TV on PC or Laptop
New and high performance USB2.0 IC, no external power required
Support NS-High Speed, data transfer rate reached 480M bps
The features of products are completely accord with the specification of USB2.0 and it has received USB2.0 specification certificate
Applied on various types of desktop PC and Notebook
Full channel (supplementary channel contained) scanning, up to 125 TV channels receivable
Support TV, Video, DVD/VCD displaying and watching, music listening, picture browsing
Support multi-national languages
Support audio/video USB mongline transfer
Time-shifting
Scheduled recording
Remote control
SV 3200 USB DVB-T Specifications:
Interface: USB2.0
TV Tuner: TENA
Chipsets: Trident TV Master 5600
Video Input: TV, S-Video, Composite
Video Capture Rate: 25 frames/second (PAL), 30 frames/second (NTSC)
TV Standards: NTSC_M, PAL_I/D/B
Video Resolution: 720*576 (PAL), 720*480 (NTSC)
Audio Input: Stereo audio (L) (R)
Audio Support: Stereo, Mono
Dimensions: 13.5cm*8.0cm*3.2cm
Weight: 204g
CPU: Pentium III 800 MHz or above
Operation System: Windows 2000 SP4, XP SP2
Memory: 64 MB
DirectX 9.0C or above
500 MB of available hard disk space or above
CD-ROM Drive
USB2.0 slot
Attention:
please check Freeview availability in your area at www.freeview.co.uk, enter your postcode for checking.
- UK buyers :
Please ensure you can receive the Digital Terrestrial Television (DTT) service in your region. Check here for coverage: http://www.dtg.org.uk/retailer/coverage.html
- Europe and other buyers:
Please check your DVB-T supports from the following website: http://www.dvb.org/about_dvb/dvb_worldwide/