Equivalent NIKON Coopix 5200 Digital Camera Battery
Here you will find some of the lowest prices on most NIKON Coopix 5200 Digital Camera Battery and related accessories.The Coopix 5200 battery pack replaces the NIKON Digital Camera Battery, You can rely on our battery expertise and your camcorder can rely on our rechargeable battery for casio digital camera to keep it powered up and connected .Meets OEM specifications and is 100% compatible with the original equipment manufacturers specifications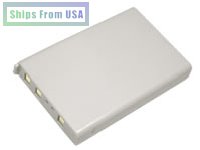 NIKON Coopix 5200 Battery
Meet or Exceed Original Specifications !
Battery Weight :
Battery Chemistry : Li-ion
Batteries Voltage : 3.7V
Battery Capacity : 1000mAh
Battery Color : Light Grey
Product Number : DNK007L
Dimensions : 53.10x35.20x7.35mm
High capacity, Longer Record Time
NIKON CP1 NIKON EN-EL5
Fits Models:[Please " Ctrl+F " to find your model number.]
NIKON Coopix 3700 Battery, NIKON Coopix 4200 Battery, NIKON Coopix 5200 Battery, NIKON Coopix 5900 Battery, NIKON Coopix 7900 Battery, NIKON Coopix P3 Battery, NIKON Coopix P4 Battery,
Digital Camera Battery Tips:
1) A new Coopix 5200 battery usually maintains a discharged condition with very low capacity. It is highly recommended to fully charge new NIKON Coopix 5200 batteries packs before using.

2) A new NIKON battery pack needs to be circled (fully discharged and recharged) three to five times to reach its optimum performance.

3) It is amazing how many batteries a digital camera can go through in a day ? A great way to extend you digital camera battery , is by using a battery extending product. Recharge the batteries for your digital camera whenever possible. Taking the time to charge your batteries at least once a day is a smart idea. Once you arrive at your office, home or other destination, begin the recharging process for your digital camera's batteries. You will not want to miss a photo taking opportunity because of dead batteries. It is best to always be prepared;-)

* Turn off your camera when you are not using it.
* Use your regular viewfinder rather than your LCD viewfinder when taking pictures.
* Don't use the camera's playback mode often. While it may be tempting to view every picture you have taken right away, the camera's playback drains batteries quickly.
* Some miniature hard drives, like MicroDrive use more battery power than Compact Flash Cards.